News
Our audience at the Southern Cross Club in Woden joined us for Time Travel in songs over the years, at our annual concert. The program included Eric Bogle'schoir Shelter, Leonard Cohen's Hallelujah, Peter Allen's I Still Call Australia Home, and favourites Rhythm Of Life and World In Union.
Events
12th December 2023 @ 10 Faithfull Circuit Kambah ACT
It's time for our established singing of Christmas Carols for the Faithfull Circuit locale residents. Liz will lead us through a selection of Carols. Her booklet will be used.
The ARC Christmas Uniform is black shoes and socks, taupe trousers, a black belt, a blue polo shirt, and an optional Christmas Red hat. Also, have your ARC raincoat with you just in case of a local rain shower.
Bring a chair, lap blanket, and umbrella for your partner as well.
Welcome
The Australian Rugby Choir is a men's choir based in Canberra. We aim to promote singing in the community by performing at the Brumbies' rugby matches and at other community and charitable events. Please get in touch with Scott on 0451 196 121 if you'd like to come to one of our practices. They're held on Thursday evenings from 7.30 to 9.20pm at the main hall of the Hughes Baptist Church, 34 Groom St, Hughes, ACT.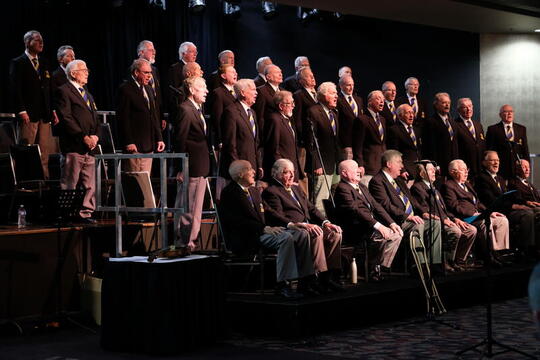 Membership
The choir is open to all men who enjoy singing, and can practise and perform at venues in or near Canberra.