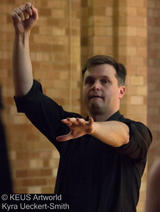 Matthew Stuckings, Immediate Past Musical Director
Matthew Stuckings has conducted and produced concerts with many of Canberra's community musical groups including the ANU Choral Society, the Llewellyn Choir, and the National Capital Orchestra. He has been the Director of Music at St Paul's Anglican Church, Manuka, since 2013 and prior to that held a similar role at All Saints' Church, Ainslie, for about 10 years.
Matthew founded his acclaimed chamber choir Igitur Nos over 15 years ago, out of an abiding desire to explore the western sacred choral tradition through performance. In 2018 they gave an acclaimed performance with the Oriana Chorale of Orff's Carmina Burana. Igitur Nos was to make its first overseas tour in July 2020, to be choir-in-residence at Canterbury, Hereford and St Albans Cathedrals, but this sadly was cancelled because of COVID-19.
Hailing from the Riverina region of NSW, Matthew studied music and science as an undergraduate at the ANU. After 10 years in various roles at the National Library, he returned to full time study and obtained the degree of Juris Doctor from the University of Sydney, where he also sang with the Choir of St Paul's College under the direction of David Drury. He was recently admitted to the legal profession.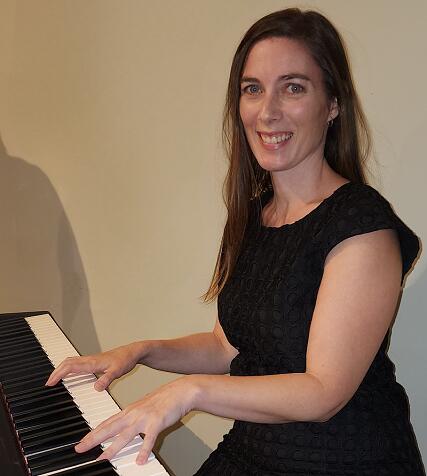 Karen Da Silva, Principal Accompanist
Karen Da Silva has been the Principal Accompanist of the Australian Rugby Choir since 2005.
She holds a Bachelor of Music degree from the University of Melbourne and a Diploma in Education from the University of Canberra.
Karen has been a music teacher with the ACT Education and Training Directorate since 2005,
including as a member of staff of the Instrumental Band Program in ACT government primary schools.
Since early in 2019 she has also run the Pied Piper Music For Littlies program, with the website www.piedpipermusic.com.au/ and work email .
In 2014 she was appointed as Principal Accompanist for the Male Choirs Association of Australia festival held in Canberra, playing a wide-ranging repertoire for a choir of over 400 male voices. In 2014 Karen received the choir's Patron's award.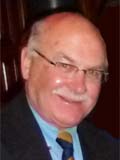 Neil Fleming, Life Member
Neil has been a member since 2005 and was President from 2009 to 2015 and again in 2019-20. He was awarded a life membership at the Recognition Dinner in February 2022. Currently he's the choir's representative on the management committee of the Men's Choirs Association of Australia and serves as its President.
Neil was born and raised in Sydney. He attended Epping Boys' High School as a contemporary of such luminaries as Geoffrey Robertson QC, Jack Newton (golfer, but then a brilliant schoolboy cricketer and goal kicking rugby fullback) and he was in the same class as Brendan Lunney (actor, probably best recalled from his role in Seven Little Australians). Following his father's posting to Young NSW, Neil completed school at Young High School.
Neil gained an Arts degree from ANU and a Dip Ed from Sydney University. He played violin as a school student, achieving Grade 7 AMEB. To his shame, he has not touched the violin in some time. Neil was a secondary school teacher from 1972 to 2004, predominantly teaching English, History and Social Sciences but also some Music in the early years. Neil taught in three schools in NSW over three years: Bonalbo Central School, Tweed River High School and Sydney Boys' High School. It was at Sydney BHS in 1974 when Vivaldi's Gloria was the set piece for study for the HSC's Level 1 Music curriculum that Neil became hooked on choral singing and the baroque period of classical music. However, he rarely got the opportunity to sing in performance because he was still at that time usually playing violin in the orchestra (mostly second violin).
Neil returned to Canberra in 1975 where he taught briefly at the-then Canberra TAFE College in Reid and in several ACT government secondary schools for the next 28 years: Melrose HS, Lake Ginninderra College, Wanniassa HS, Calwell HS and Stromlo HS including three periods in Head Office as the system's secondary schools' Staffing Officer. Following his departure from the ACT Education Directorate in 2004, Neil set up his sole trader business as a scribe working for selection committees usually in ACT government schools but also in the APS and ACT Government.
Late in 2005, whilst visiting his elderly mother on fete day at Goodwin Retirement Village in Monash, Neil saw the Australian Rugby Choir performing and, through recognising two connections amongst the ranks, was encouraged to join immediately.
Neil is married to Eris. They have four children and, so far, four grandchildren.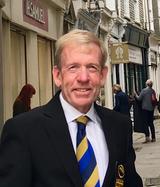 Stephen Barry
Stephen was born and raised in Canberra but has spent many years living and working interstate, mostly in Queensland. At the invitation of Russell Grainger, Stephen attended the Australian Rugby Choir Annual Concert in November 2017 and signed up immediately into the ranks of the Second Tenors. Stephen has had an interest in the Choir for a number of years and being semi-retired now has made up for lost time by enthusiastically participating in many events and performances and through a period on the Management Committee.
So far, two events that Stephen participated in stand out for him. The Songs of Stage and Screen concerts at The Q - Queanbeyan Performing Arts Centre in November 2018, and as a member of the ARC contingent that participated in the Cornwall International Male Choir Festival in the UK in May 2019.
The Choir has also renewed Stephen's interest in the Brumbies and he very much enjoys the camaraderie that comes with ARC membership.
Stephen has been married to Desleigh for 31 years and they have two daughters.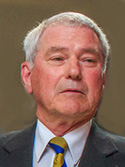 Keith Jones
Keith joined the ARC in 1998 and has greatly enjoyed contributing as a second tenor to four-part harmony singing, the challenge and satisfaction of learning and performing new songs, and the camaraderie among members of the choir. For him membership of the choir has been a sustaining and fulfilling experience, especially since retiring from full-time work in 2000.
Performing in concerts with other ARC members in massed choirs in the Sydney Opera House, Carnegie Hall, New York and the Royal Festival Hall in London are unforgettable bonuses. Keith has been a member of the ARC Management Committee from 2009 to 2020, Secretary from 2013 to 2019 and Public Officer from 2014 to 2019.
From boarding school days to the recent past, Keith played various sports, progressing to first grade cricket in Canberra, and later enjoyed recreational skiing. Keith has memories in early childhood of singalongs at home in the country with his father playing piano, mother singing and friends and neighbours often contributing to the entertainment.
Keith was born in Stanthorpe, Queensland and was educated at the (then) Queensland Agricultural High School and College (aka Gatton College), Ipswich Grammar School and University of Queensland. Shortly after joining the Department of Trade and Industry in Canberra in 1966 he was conscripted into the Army for two years and served in the Ordnance Corps after graduating from the Officer Training Unit for national servicemen at Scheyville near Sydney.
In 1968 Keith returned to civilian employment in Canberra with the Department of Trade and Industry for several years and worked in the Department of Agriculture for 37 years, including a four year posting as Counsellor (Agriculture) to the Australian Mission to the European Union in Brussels, where he met and married Lesley.
Keith and Lesley have a daughter in Melbourne and a son in Brisbane.
In 2017 Keith was a joint winner of the choir's annual Recognition Award. Late in 2021 Keith bade the choir farewell when he and Lesley moved to Queensland.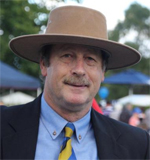 Frank Bergersen
Frank joined the Australian Rugby Choir in 2003 and has thrived on it. Frank is a born and bred Canberran who completed an Arts degree at the ANU in 1976 while working for the Commonwealth Public Service (CPS). Inspired by his experiences as an Army brat who grew up in RMC Duntroon, Frank completed officer training with the Australian Army Reserve and was commissioned as a Lieutenant in 1982. He worked his way up to executive level in the CPS and finished with a stint as a Senior Housing Manager working for the ACT Government.
Frank has been a member of the management committee and had a leading hand in a number of initiatives within the choir. These include the introduction of the choir blazer and polo shirt, the introduction of electronic tablets for use by our MD, accompanist and choristers, administration for the choir's performances in New York and London and the 2019 tour in Cornwall, and the formation and operation of the Music Consultation Group. Frank is also Equipment Manager for the choir and has been voice part Captain for the Basses.
When he is not singing, he loves to indulge his passion for landscape photography. He is magnificently supported by his wife Rosemary, his two sons, two daughters and five grandchildren.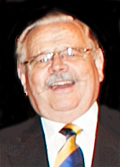 Keith Brent
Keith is one of the longest serving members of the Rugby Choir, having joined shortly after its formation in 1996. He is a proud member of the Bass section—the heart and soul of the choir.
Keith retired from the Royal Australian Air Force in 2015, after serving for more than 50 years - obviously, once he joins something, he doesn't give up! He played rugby with the Air Force in Townsville in the late 1960s, and on one occasion they played a New Zealand Air Force team at Eden Park, Auckland.
A keen supporter of the Brumbies, he has hardly missed a home game since the start of the then Super 12 rugby season in 1996. He also follows several other sports, including rugby league and cricket. He enjoys all forms of music from folk to jazz to musical theatre to opera, and is partial to a glass or two of fine wine.
Keith is married to Trish, and she is a regular attendee at choir performances.
Keith is an essential member of the Choir team at Brumbies matches. He is the one who issues members with their entry tickets prior to each match.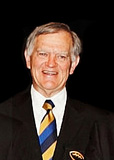 Bob Nield
Bob has been a member of the choir since 2008. He has a background in Rugby playing as hooker with Sydney University (where he was coached for a time by the legendary David Brockhoff), Sydney Teachers' College and Canberra Royals where incidentally he played with the key people who set up the Royals Rugby Choir, the forerunner of the Australian Rugby Choir. He also coached schoolboy teams for many years at school and ACT level where he had the distinction of not selecting George Gregan for the ACT Under 15's against Queensland because George, though clearly talented, was considered too small to take on the big Queensland forwards. He looks back fondly on his time as Manager of the ACT Open Schoolboys team that included Michael O'Connor and a gangly Geoff Didier, which famously took on the Ella brothers and a young Wally Lewis at the National Schoolboys' Carnival in 1977.
Bob taught for 33 years including 13 years as an ACT high school principal at Calwell High (where he was the founding principal), Stromlo High and Campbell High (and 9 years as a founding member of staff at Hawker College and four years as Deputy Principal at Canberra High) before retiring at 55. He has since worked as a part time Recruitment Adviser with the Australian Public Service Commission. He was introduced to the Rugby Choir by Neil Fleming, a former teaching colleague, and has enjoyed immersing himself in the world of a four-part male choir with a strong community focus.
In addition to the rugby link with the Brumbies, the choir's community involvement is important to Bob. He was originally trained as a History teacher and for a time on retiring worked as an enthusiastic guide at the Australian War Memorial. So he has really valued the chance to participate in ceremonies with the choir at the War Memorial, particularly the Dawn Service on Anzac Day. Bob is also a long-standing member of Rotary and was President of Canberra Sunrise Rotary Club in 2012/13. In addition he is currently a mentor with Menslink, one of the charities supported by the Brumbies.
Bob has four adult children - Jacqui, Michael, Samantha and Richard – from his first marriage to Helen, a highly regarded Drama teacher who tragically died of motor neurone disease at the age of 50. He has been married to his second wife Ann since 2001. Ann has three children of her own so she and Bob juggle seven adult children between them which has meant frequent commuting between Canberra, Sydney and Melbourne.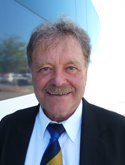 Malcolm Pascoe
Malcolm was born and raised in Adelaide, where AFL is king. When he joined the Australian Rugby Choir in 2009, he thought he might also begin to understand Rugby. Well, you know what they say about best laid plans! Rugby confuses him just as much now as it did when he first saw the Brumbies play, after singing 'Stout Hearted Men' with the ARC Baritones before the game. But, not all has been lost. Malcolm has learnt a lot about male voice choral singing in his years with the ARC and has enjoyed the fellowship of those 'Stout Hearted Men' throughout. And he continues to do so.
In the beginning, Malcolm took piano lessons. At seventeen, while studying economics at the University of Adelaide, he became the accompanist of The Adelaide Glee Club – a male voice choir of long standing in Adelaide. A couple of years later, he accompanied the Scots Church Choir in a choral competition, which they won, and then he joined the Basses/Baritones in that choir for the next year's competition which they also won. His mother was principal contralto in that choir and his father sang tenor – his brother thought three quarters of the family in that choir was enough and stayed away. About that time, Malcolm also 'discovered' musical theatre in Adelaide – he played piano for, and helped musically direct, a melodrama at the AMP Theatrette, as well as 'No Mozart Tonight' and 'Flash Jim Vaux' at the Sheridan Theatre. In addition, he formed a trio with a couple of mates at the AMP - they specialised in Lennon & McCartney and Antonio Carlos Jobim!
The next twenty years saw Malcolm all over the place. After joining the APS in Canberra, he found himself in Brasilia within a year. There he passed a couple of actuarial exams, taught mathematics at the American School, played piano for a production of My Fair Lady, played piano in a 'blues' quintet, 'trod the boards' for the first time in a couple of Woody Allen plays, and ran around tennis courts. A couple of years of work followed back in Canberra, interspersed with two productions associated with Tempo theatre as well as a premiership with the CCAE Australian Rules Football club. Overseas again, Malcolm went back to uni and completed an MBA at George Washington University in Washington DC. Back home again, he put in six years with the APS, and celebrated the arrival of two sons. Malcolm then found himself back in South America, this time in Santiago de Chile. There he taught piano, at one stage having about 25 students, as well as musically directing a couple of musical reviews about expatriate life in Santiago.
Malcolm now lives with his partner Jan in Canberra's south. They both 'formally' retired in 2005 and have travelled extensively since, including a trip to London in 2012 to hear Bryn Terfel at the Royal Festival Hall - Jan from the centre of Row E and Malcolm from the choir backing him! Jan and Malcolm have a blended family of four children, a girl and three boys, as well as three grandsons.
Having played 'rules' for years in Adelaide and even in Canberra, Malcolm more or less understands that game. But he still doesn't understand Rugby!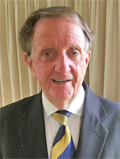 Tom Fitzgerald
The Choir 'ticks all boxes' for Tom. The pleasure in singing, the fellowship with a great bunch of guys. The challenge of learning new songs, the opportunity to perform in gigs and Concerts in Canberra and beyond.
Tom was for a long period Uniform Coordinator for the Choir, becoming known as 'The Mad Hatter'. A particularly rewarding aspect of the role was early contact with new members and getting to know them.
Tom is now retired. He worked as a teacher in Primary Schools in Victoria and later as an Educational Psychologist. Before he moved to the ACT in 1991 he was Manager of the South West Victoria Student Services. In the ACT he worked in various primary and secondary schools as a School Counsellor and Senior School Counsellor.
Over the years Tom has been involved in many community organisations including Rotary. For a number of years in Victoria he had an interesting and challenging voluntary role as a 'Bail Justice'.
Tom is married to Wendy and together they share 3 children, 11 grandchildren and 1 great-grandchild. They have no family members in Canberra and so are kept busy catching up with them in Darwin, Townsville, and Hamilton in Victoria.
Eddy Stevens
Eddy joined the choir in 2007. He grew up in Sydney and came to Canberra in 1963 to take up an appointment with the then Department of External Affairs. In the ensuing 36 years, he served in a number of capacities both in Canberra and overseas as a member of the foreign service. This included postings to Tokyo, Osaka (on secondment to the Department of Prime Minister and Cabinet), Cape Town, Singapore and Paris. In between these postings he served in Canberra and also as Regional Director in Sydney. His last two overseas assignments were as High Commissioner in Cyprus (1989-1994) and Ambassador to Ireland (1995-1999). He was concurrently non-resident Ambassador to the Holy See (1997-1999).
Eddy is married, and has 3 children and 4 grandchildren.
His love for music and singing drew him to the ARC which he joined in 2007. He was on the Committee from 2007 until 2015 and was the Choir's Vice-President for four years from 2010.
Peter Naylor - "Nails"
Peter has been a member of the choir since 1998. He served on the choir's committee for many years until 2015 including a period as Vice-President.
Peter was born in London and raised and educated in Wales where he graduated in Physics in 1965. He worked in research and development in the UK before coming to Australia on a three-year contract in 1971. He must have liked it because he's still here! He retired in 2009 after 25 years in senior executive positions with Customs.
Peter played rugby in Wales, England and Canberra (with the mighty Westies!) and has been singing (first tenor) in choirs since his voice broke (some say it's still broken!). He is a keen supporter of the Brumbies and the Wallabies, but confesses to mixed emotions when the Wallabies play against Wales.
Peter helps the choir with their learning of pieces in the Welsh language by providing phonetics and pronunciation assistance.
Peter has two daughters and one granddaughter – so no choir recruits there! He is a keen – but not very good – golfer.
While regretting his decision not to continue his piano lessons as a boy, Peter finds that singing in a choir like the ARC is a wonderful way of pursuing his love of music, as well as enjoying the camaraderie of a group of friends.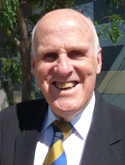 Robert Macaulay
Robert joined the Rugby Choir in 1997 as a second tenor, and considers the Choir began its serious development in 2001 when it came under the musical direction of Andrea Clifford, and her strong work has continued under Lucy Bermingham, Rachel Campbell and Matthew Stuckings, backed always by talented accompanists. Robert also believes the Choir has been most fortunate in having strong planning, administration and communication and this in turn influences the wonderful camaraderie of the Choir.
He grew up in Sydney and graduated from Sydney University BA (Hons. in Anthropology). While a student he completed National Service in the navy. He carried out field work for 9 years for the Commonwealth Government in extremely remote parts of the vast Western Desert covered by the Woomera Rocket Range and the Maralinga testing area. This period of the late 'fifties and early 'sixties was remarkable and he was fascinated and honoured to live and work with Aborigines in relatively early contact situations.
Jean and Robert married in Sydney in 1958 and were then based in Woomera.In 1965 they moved to Canberra where Robert began an entirely new career in the then small, wonderful Department of Immigration. He had senior postings to The Hague and as Commonwealth State Director of Immigration in Queensland.
In retirement they have travelled overseas quite extensively. Robert spent 5 years on the Board of Mirinjani Retirement Village. Both are members of St. Andrew's Presbyterian Church. They have 3 married daughters and 7 grandchildren.
Robert has played much tennis, soccer and first grade cricket and his cricket highlights were playing against Keith Miller and watching Don Bradman.
In the Choir Robert has worked on the blazer sub-committee, provided the pocket inserts, and for 10 years from 2010 was the Recorder for the annual Patron's Award. He especially enjoyed the Choir visits to Carnegie Hall and the Royal Festival Hall, and the charity gigs in various NSW country towns.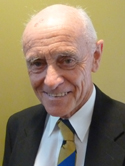 John Armitage
John joined the choir at the end of June 1997 within days of retiring. Joining a fine body of men, which the Choir represented, would fill a void and provide camaraderie in making the transition to retirement easier as he was leaving an organisation of some 350 people, most of whom he knew personally. John also took up golf and part-time tour guiding around Canberra, and in recent years he has added art to his activities.
In the choir John was cast into the baritone team after singing half a verse of Danny Boy for Colin Slater, the musical director at the time. His journey with the Choir has been one of enjoyment through singing and one of inspiration given by the musical directors and the men around him. Over two decades the highlights, which mostly could only have been experienced by being a member of the Choir, include singing at the Brumbies matches, the memorable first away trip to Cassegraine Winery on the mid north coast, and Anzac Day services at the War Memorial. The stand-out gigs have been two performances at the Sydney Opera House, trips to New York in 2008 to sing in Carnegie Hall and to London in 2012 for the Welsh Festival Hall Concert.
John came to Canberra in 1961 and started working at the Patents Office. In 1965 he took up an offer to join the staff of the National Capital Development Commission. He attained qualifications as an Urban and Regional Planner and joined the Town Planning Division of the Commission. Prior to the Commission being closed down in 1988 John was working with the Land Development Division, and he continued in this field and other areas of Land Administration with the ACT Government until retirement.
John and Catherine live in Braddon. They have a son, two daughters and seven granddaughters.
Darryl Cupitt
Darryl joined the choir in 2001 and was thrilled to be able to sing with the baritones. The other side of the story is that the baritones have never gotten over it. For years Darryl had the important role of being one of the Choir's doorkeepers at practices, collecting fees and ticking everyone off (with a pencil of course).
Darryl moved to Canberra in 1967 to take up a position with the Patents Office. Over the next 26 years he moved through the ranks to the position of Assistant Commissioner of Patents and Assistant Registrar of Designs.
In his late youth Darryl joined the Parramatta Musical Comedy Company. He started in the chorus with a small role in 'Showboat', then in 'Oklahoma' he had a larger role. By the time they did 'Music In The Air' and 'Brigadoon' he had principal roles. It was while he was with PMCC that he met his wife-to-be, the lovely Val Pickering.
Darryl has been involved in some interesting and traumatic events.
In one case he was able to rescue a woman in difficulties in the ocean at Merry Beach. He could see she was in serious trouble so did not waste any time, plunging into the water fully clothed and successfully rescuing her.
In the 2003 Canberra bush fires Darryl & Val rescued an elderly neighbour and her seriously ill son. As they "loaded" the son into the front seat of their sedan the fires were destroying the back fence. On their way to the evacuation centre the fire passed over their car. They all thought they were "goners" but fortunately they survived.
Darryl and Val have 3 daughters, one deceased 8-year-old son, 5 grandchildren and 3 great-grandchildren.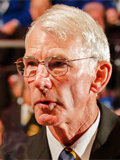 Alastair Crombie, Life Member
Alastair is the first Life Member of the choir. He is a former President of the Australian Rugby Choir and former President of the Male Choirs Association of Australia. He joined the choir in 2001 as a tenor, but soon migrated to the more challenging domain of the second tenors. However, having peaked at that challenge, in May 2015 he moved to the Basses!
Alastair was on the academic staff at the ANU for twenty years after reading for a PhD in social science. He moved from the ANU to become Executive Director of Adult Learning Australia, the national peak body for the field of adult education and training, for six years, and then worked as a program consultant to the Grains Research and Development Corporation.
Alastair is proud of the professionalism of the choir and its good standing in the Canberra community. Hosting the 2014 Festival of the MCAA was another great opportunity to demonstrate the choir's organisational and planning competence - as well as our impressive choral abilities!
Mick Rice, Life Member
Mick became the second Life Member of the ARC in 2014. He joined the ARC in 1997, starting as a bass but he's now a first tenor. He was a committee member from 2000 until 2015 and was for a period Vice-President.
Mick and Diane have been married since 1972 - they have three children and seven grand children.
After almost forty years in the federal public service, Mick retired in 2004. He had a "charmed" career which included long-term postings to Pakistan, Argentina, Peru and the Philippines.
A member of the Australian Boys Choir in Melbourne in the early 'sixties, Mick has sung around the Canberra region since then. Church weddings were initially "the go" but Mick detects a more recent shift to funerals! He is also a member of Credo, a male quartet which has also sung in the Canberra region since early this century.
Mick recalls the early ARC as something of a "glee club" which mainly sang "unison" - it was good fun but a little "rough around the edges". He is very proud of the quality sound which the choir now produces - particularly as it is a "non-audition" choir. He considers the choir's greatest achievements to include its two performances with the combined British Lions choirs at the Sydney Opera House, which were surpassed by the ARC being the only choir invited to perform with the Lions Choir at its 2012 Sydney concert.
Mick attributes the success of the choir to the dedication and skill of our previous Musical Directors (Andrea Clifford and Lucy Bermingham) combined with the efforts of our long-term accompanist Karen Da Silva. Obviously, these achievements would not have occurred without the dedication and sustained effort of the choir members.
Mick enjoys the choir's camaraderie and looks forward to many more years of great singing and good fun.
Mick became a Life Member at the Choir's AGM in 2014 and was presented with his Citation by Choir Patron Ian McLean at the 2014 Recognition Dinner.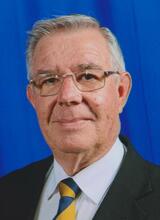 Albert Orszaczky, Treasurer
Albert grew up in the inner western suburbs of Sydney following the family's arrival as refugees from Hungary in 1949. On completing his schooling in 1961, he commenced his working life with the ANZ Bank and came to Canberra on transfer to a managerial position in late 1982. He is married to Sandra (since 1969) and they have lived in Wanniassa from 1999. They have two adult children who were educated in Canberra, a married son in Sydney with two children and a married daughter now living back here in Canberra with their young son.
Following a career of almost 30 years with the Bank, Albert continued working for a further 20 years in the Commonwealth Public Service, before retirement from the Australian Research Council (another ARC!) in late 2011. Albert had joined the choir the previous year at the invitation of Frank Bergersen, influenced by Frank's positive and enthusiastic recommendation, and based on his own keen interest in music and singing.
Although Albert has no formal training or background in music, he has an extensive collection of contemporary and jazz music, both vocal and instrumental. Apart from his musical interests, Albert is a keen follower of various sports and Rugby League in particular, being a strong long-time supporter of the Wests Tigers (formerly Balmain). He is also involved with various local community and volunteer activities, including his role as Treasurer on the Management Committee of the choir since late 2014, also as a Board member and Vice President South for ACT Neighbourhood Watch.
In his leisure time, Albert also enjoys the company of friends over the odd glass of red wine, as well as gardening and the family pet beagle, Sadie. Despite their fond memories of past travel experiences, he and his wife are quite happy to stay safe and well living here in Canberra.
Albert has greatly enjoyed the experience involved with the various performances and activities with the choir over the years and he values the strong fellowship of the group, including the many close relationships and contacts established. In 2017 Albert was a joint winner of the choir's annual Recognition Award.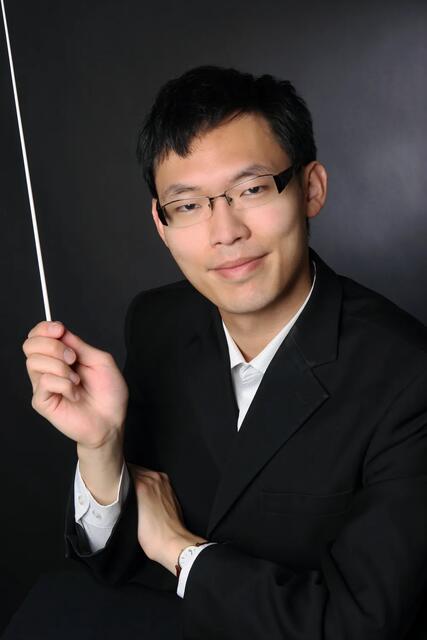 Shilong Ye, Musical Director
Shilong Ye has extensive experience in instrumental and choral conducting. He is Musical Director of the Canberra City Band and the Brindabella Orchestra, and he travels between Canberra, Sydney, Wollongong, and China to work on multiple musical projects each year.
Shilong is known in Canberra for his years of directing community and professional ensembles in local music events. He has appeared as a soloist and emcee at the National Multicultural Festival, and has performed at the Canberra International Music Festival, Floriade, Lanyon Homestead Christmas Carols, Australian National Eisteddfod, Marimbula Jazz Festival and World Harp Congress.
After studying music at Narrabundah College, Shilong went on to complete a Bachelor of Music with Honours at ANU School of Music, and later completed his Master of Music Studies in Conducting at Sydney Conservatorium of Music.