APPOINTMENT OF MATTHEW STUCKINGS AS NEW MUSICAL DIRECTOR
8 August 2019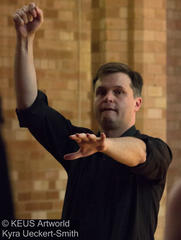 Matthew Stuckings has been appointed as the Musical Director of the Australian Rugby Choir, from Thursday 25 July.
The Musical Director Selection Panel, consisting of Bob Nield, John Hall, Alpha Gregory and Ian McLand he has taken up the position after the choir's winter break on Thursday 25 July. He will initially take up the appointment until the end of 2019, with the option of a longer-term appointment being explored during this time.
Matthew has a strong track record as a choral specialist working with diverse choirs from amateurs to seasoned professionals. He has been Director of the Igitur Nos Chamber Choir (one of the leading chamber choirs in Canberra) since 2003, and Director of Music at St Paul's Anglican Church Manuka since 2013. He has been associated with the ANU Choral Society (SCUNA) for over 15 years and regularly takes rehearsals and conducts concerts with other renowned ACT choirs from time to time, including the Oriana Chorale and the Llewellyn Choir. He has worked at the National Library since 2004 and currently manages newspaper digitisation there.
Matthew undertook a law degree at Sydney University full time from 2015 to 2017 and while there was active in the student community as a band member in the renowned Sydney Law Revue. He was admitted as a lawyer in the ACT Supreme Court in April 2019.
Matthew has been briefed about the Australian Rugby Choir's focus in the second half of the year on the Annual Concert which is set down for Sunday 27 October. He has undertaken to plan the practice schedule for the rest of the year with the Annual Concert in mind and to announce this at the first practice on Thursday 25 July after the break. In this task he will work with continuing members of the ARC Management Committee.
---
« Farewell Dinner for Rachel Campbell