8 May 2015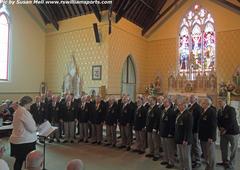 Some great pictures of the choir were taken on Sunday April 19th when 35 embers directed by Rachel, with Rose as accompanist, took part in a Commemoration in Song as part of Boorowa Remembers 2015 a 100 years of Anzac event. ARC sang Stouthearted Men, Brothers Sing on, Bonny Banks, World in Union and Irish Blessing. 3 other choirs participated and two songs (one a special composition) were performed by the combined choirs. We also listened to the other choirs sing and this included two from our repertoire, Speed Your Journey and Pemulwuy.
.
Travel photos are in the ARC website gallery, whilst the high resolution images from the event can be found in our FlickR Album on this LINK.
.
The hi-res. images are © Richard Glover and Susan Meli, of www.rswilliamsports.com of Bowning NSW.
---
« On stage at Brumbies v Waratahs